The 122 year old courthouse of Fremantle has been totally redeveloped, had a beautiful modern pavilion and garden space added and is now open as The Old Courthouse in Fremantle. 
This redevelopment has been a labour of love over a three year period under the passionate and determined leadership of the team behind Fremantles' existing iconic venue – the Heritage award winning National Hotel.  
Enjoy a casual meal or drinks in the air conditioned historic courtrooms or in the shaded surrounds of our garden or pavilion. The courthouse garden is proving the ideal spot to spend the summer with family or friends and of course a cold bevvy.⁠⁠
The mature trees provide the shade and the bar can provide the beer, cocktails or maybe a refreshing summer spritz.⁠
Did you know you can get married at the Old Courthouse?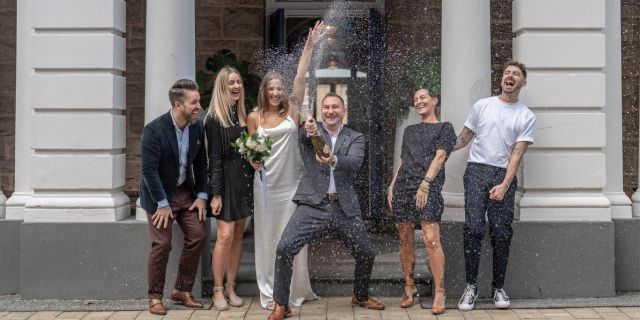 First used to hold weddings in 1899, you can once again have your marriage ceremony conducted in the former Civil Courtroom of the original Fremantle Courthouse. What better place to celebrate with drinks after your ceremony than the original Criminal Courtroom or outside, in the expansive garden! Take advantage of the countless opportunities for photos in the beautiful heritage West End and stunning Waterfront locations of Fremantle. 
Contact Fremantle Marriage Office to learn more about how to book your legally recognised wedding in a registry office for intimate or larger groups (2 - 80 people).